Workshop de Ashtanga Yoga con Peter Sanson
Ashtanga Yoga workshop with Peter Sanson
Ashtanga Yoga workshop Peter Sansonekin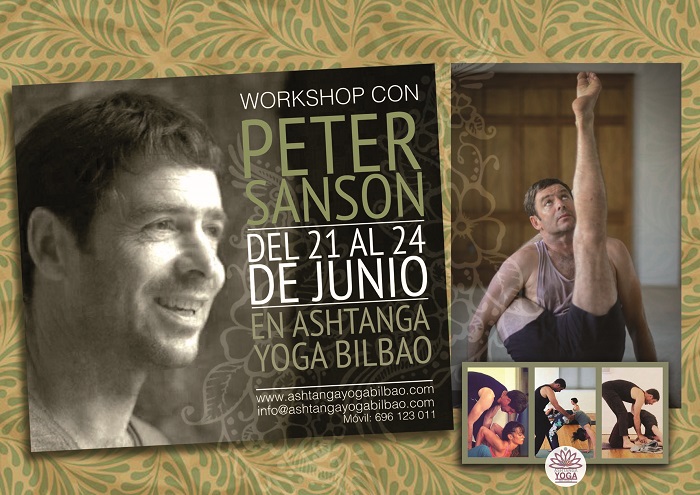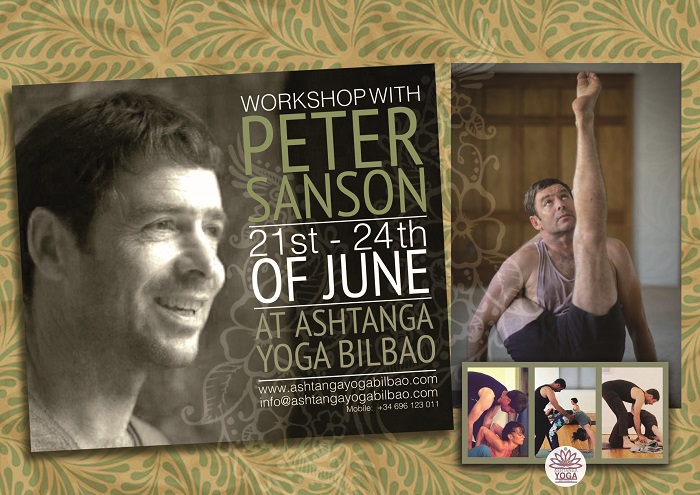 El solsticio de verano trae a Bilbao el día más largo del año y... ¡la primera visita de Peter Sanson! En efecto, Ashtanga Yoga Bilbao tiene el gran honor de dar la bienvenida a una de las mayores referencias mundiales en la tradición de Ashtanga Yoga. Así que, coge tu agenda y toma buena nota, ¡porque entre el 21 y el 24 de junio tienes una cita en Ashtanga Yoga Bilbao para disfrutar de un workshop de cuatro días de clases estilo Mysore con Peter!
Peter Sanson, procedente de Nueva Zelanda, comenzó su andadura en el yoga a principios de los años ochenta y ha dedicado su vida a la práctica y enseñanza tradicional de Ashtanga Yoga.
Peter pasó 21 años aprendiendo bajo la instrucción de Shri K. Pattabhi Jois (1915-2009) en Mysore, sur de la India. Es uno de los pocos practicantes de Ashtanga Yoga que han completado y que están certificados para enseñar la 4ª serie Avanzada B, y uno de los ocho profesores de todo el mundo a los que se les ha reconocido el más alto nivel de profesores certificados honorarios por el Instituto KPJ de Mysore
Desde 1989 Peter ha viajado a Mysore cada año y a día de hoy continúa sus estudios de Yoga bajo la tutela del Paramagurú R. Sharath Jois.
La enseñanza de Peter es comprometida, cálida e intuitiva de acuerdo con el nivel y las necesidades de cada estudiante. Tanto los principiantes como los practicantes avanzados son invitados para unirse a Peter en este evento tan especial en la hermosa ciudad de Bilbao. El workshop consistirá en cuatro clases estilo Mysore - el método tradicional de enseñanza de esta antigua práctica tal y como Guruji se la enseñó a Peter.
Con sólo veinte esterillas por turno, este taller es una gran ocasión para profundizar en esta hermosa práctica bajo la guía individualizada de uno de los profesores más senior del mundo. ¡No dejes pasar esta gran oportunidad!
Para asistir al taller, y al no tratarse de un taller de iniciación, resulta absolutamente imprescindible conocer y tener consolidada una práctica de Ashtanga Yoga estilo Mysore. Por favor, si no practicas habitualmente Ashtanga Yoga en clases estilo Mysore, permite que otros practicantes regulares disfruten de este workshop. Si vives cerca de Bilbao, te ofrecemos apuntarte a nuestras clases regulares y conocer con nosotros desde cero el método de Ashtanga Yoga.
Workshop de 4 días de Ashtanga Yoga con Peter Sanson 21, 22, 23 y 24 de junio, 2018 Ashtanga Yoga Bilbao - Bilbao, Bizkaia.
Turnos de entrada: 07:00AM, 08:00AM, 08:30AM, 09:00AM y 09:30AM Nota: El primer turno queda reservado exclusivamente para la gente que tenga que acudir al trabajo después. Se podrá entrar a partir de las 06:30AM.
Precio: 130 euros por el taller completo de cuatro días. No se admiten días sueltos.
Charla y preguntas con Peter después de la clase del sábado 23 de junio. Traducción al castellano por Fernando Gorostiza.
Imprescindible reservar plaza. Envía un email a Fernando y Nines - info@ashtangayogabilbao.com o llama por teléfono o escribe un Whatsapp al 696123011
Más información sobre Peter en petersanson.co.nz
Política de cancelaciones: Si cancelas tu plaza perderás 20 euros de tu reserva. Si cancelas tu plaza después del 20 de mayo, perderás toda la reserva a menos que nos avises y podamos cubrir tu plaza con otra persona. En tal caso, te reembolsaremos la reserva que hiciste excepto 20 euros.
Summer solstice will bring Bilbao the longest day of the year and... ¡the first visit of Peter Sanson! Indeed, Ashtanga Yoga Bilbao is greatly honoured to welcome one of the greatest world references in Ashtanga Yoga tradition. So, pick up your calendar and take good note, cause between the 21st and the 24th of June you have a date at Ashtanga Yoga Bilbao to enjoy a Mysore style classes four day workshop with Peter!

Peter Sanson, an Ashtanga Yoga teacher from New Zealand, started his Yoga journey in the early 80's and has dedicated his life to the practise and teaching of traditional Ashtanga Yoga.

Peter spent 21 years studying under the instruction of Yoga Guru Shri K. Pattabhi Jois (1915-2009) in Mysore, South India. He is one of only a handful of Ashtanga Yoga practitioners who has completed and is certified to teach Advanced B 4th series, and one of only eight teachers worldwide to be awarded the most senior level of honorary certified teacher from the KPJ institute, Mysore.

Since 1989 Peter has traveled to Mysore every year and continues his Yoga studies under the tutelage of Paramaguru R. Sharath Jois.

Peter teaches with great commitment, warmth and intuition according to each individual's level and needs. He invites beginners right through to advanced practitioners to join him for this special event in the beautiful city of Bilbao. The workshop will consist of four Mysore style classes – the traditional method of teaching this ancient practise as it was taught to Peter by Guruji.

With only twenty mats per shift, this workshop is an opportunity to authentically experience this beautiful practise, and deepen your Yoga with one-to-one guidance from one of the world's most senior teachers. Don't miss the chance!

In order to attend the workshop, and since it's not intended to be a workshop to start learning Ashtanga Yoga, it's absolutely compulsory to know and keep a steady Mysore style Ashtanga Yoga pratice. Please, if you don't usually practice Ashtanga Yoga in Mysore style classes, leave other regular practicioners enjoy the workshop. If you live close to Bilbao, we propose you to sign up for our regular classes and get to know from scratch the method of Ashtanga Yoga.

4 day Ashtanga Yoga workshop with Peter Sanson June 21, 22, 23 and 24, 2018 Ashtanga Yoga Bilbao - Bilbao, Basque Country, Northern Spain.

Start times: 07:00AM, 08:00AM, 08:30AM, 09:00AM and 09:30AM starts Note: First shift is exclusively for people needing to go to work afterwards. The gates will be opened from 06:30.

Fees: 130 Euros for the four days full workshop. Single days are not allowed. Q&A with Peter after class Saturday 23rd of June. Booking essential. Please email Fernando and Nines - info@ashtangayogabilbao.com or telephone or Whatsapp +34 696123011

More info about Peter at petersanson.co.nz

Cancellation policy: If you cancel your booking you will lose 20 euros of your reservation. If you cancel your booking after the 20th of May, you will lose all your reservation unless you let us know and we can cover your spot with another person. In such case, we will reimburse your reservation except for 20 euros.
Orri hau ez dago prest. Mesedez, kontsulta gaztelainaz edo ingelesez. Barkatu eragozpenak.