"Ashtanga Yoga para el resto de tu vida" con David Williams 4 días, 5 clases Jueves 4 de abril - domingo 7 de abril 2019
"Ashtanga Yoga for the rest of your life" with David Williams 4 days, 5 classes Thursday 4th of April - Sunday 7th of April, 2019
"Ashtanga Yoga zeure bizitrarako" David Williamsekin 4 egun, 5 klase Osteguna apirilak 4a - igandea apirilak 7a 2019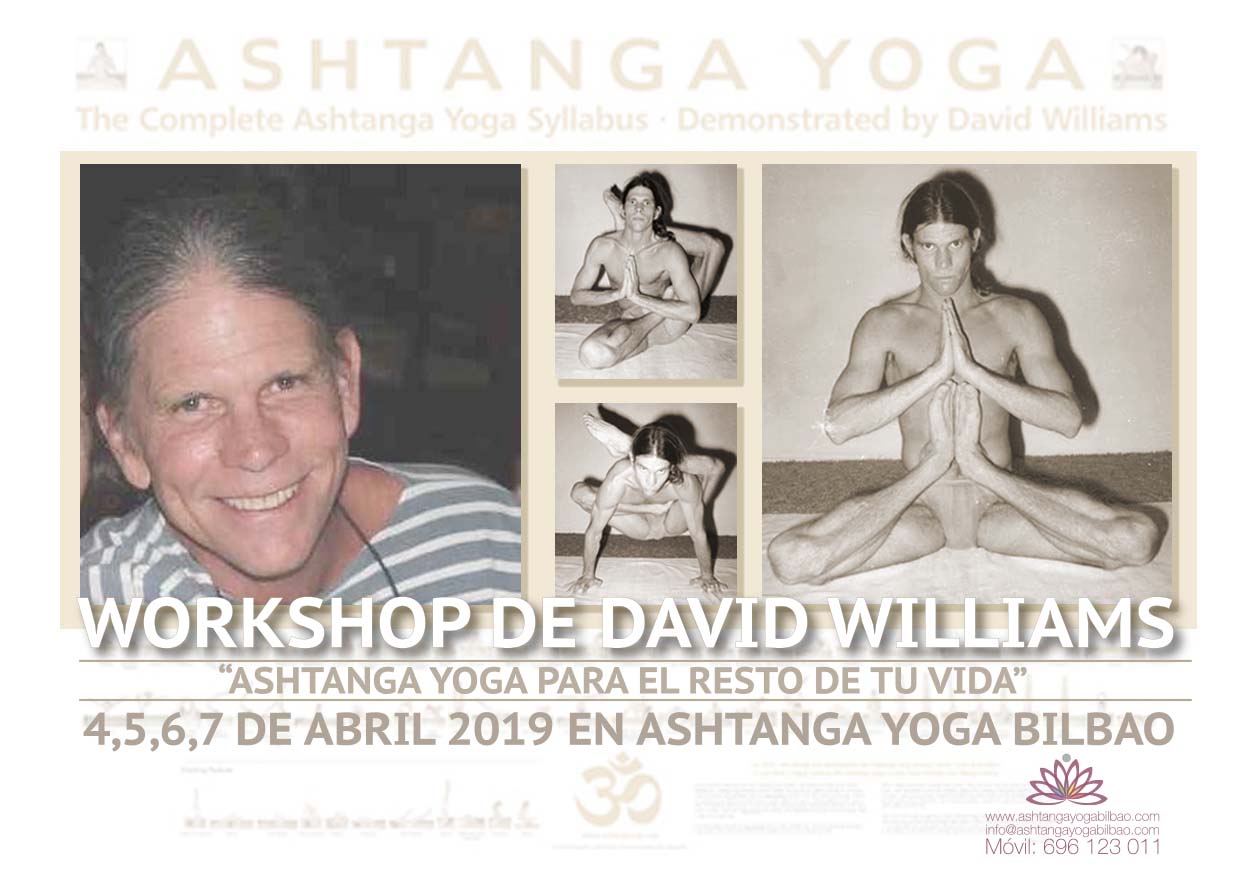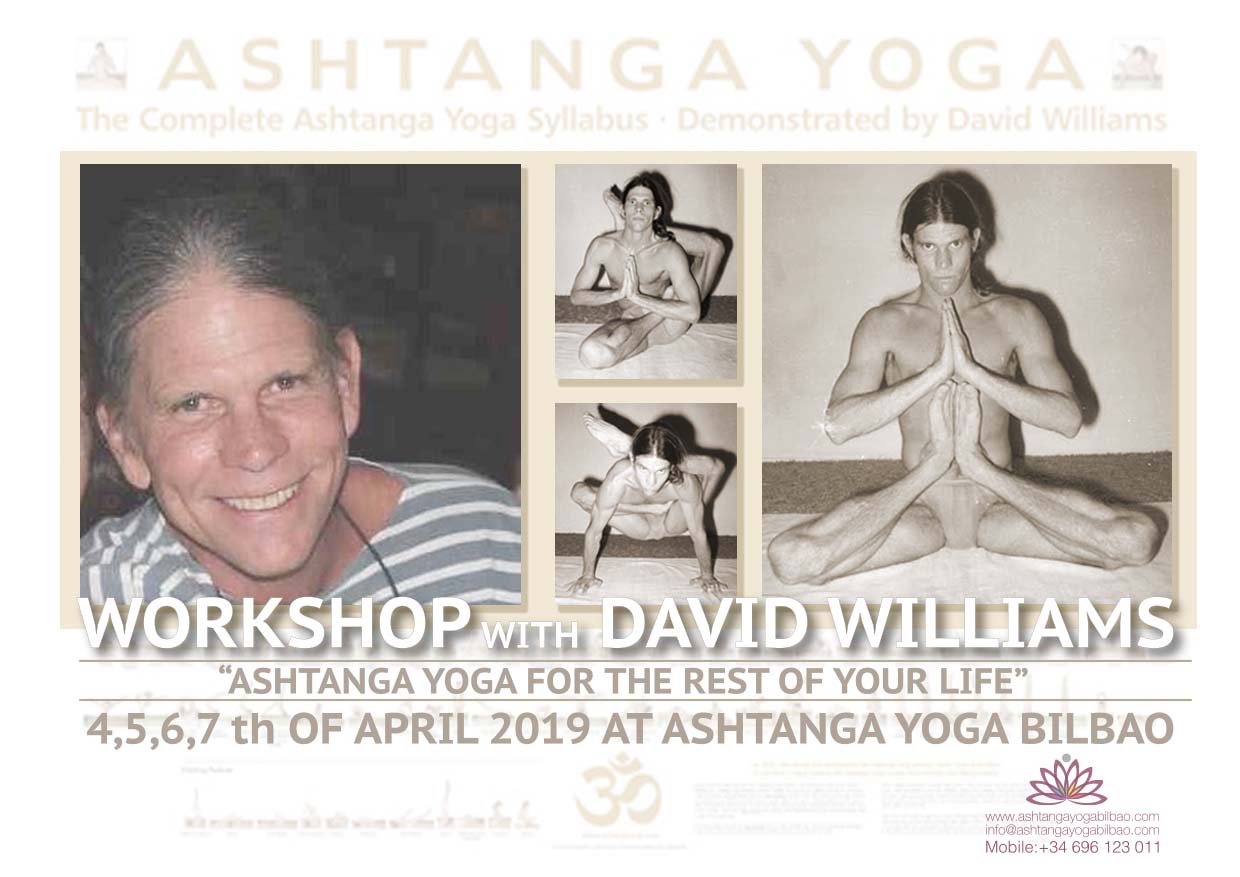 Ashtanga Yoga Bilbao te ofrece la extraordinaria y magnífica oportunidad de estudiar yoga con el pionero que hizo que el Ashtanga Yoga saliera de la India.
Entre 1973 y 1979 David Williams se convirtió en el primer occidental en aprender el sistema completo de Ashtanga Yoga directamente de K. Pattabhi Jois. Desde entonces dedicó su vida a divulgar por el mundo el método que hoy practican cientos de miles de personas.
Durante cuatro días, desde el jueves 4 de abril hasta el domingo 7 de abril del 2019, David te sumergirá en aquellos años arcaicos de Ashtanga Yoga y te ofrecerá su especial visión. ¡Será como abrir una cápsula del tiempo! Si eres una persona apasionada de Ashtanga Yoga, en verdad que no puedes perdértelo.
Todas las palabras de David Williams serán traducidas al castellano.
Debido al elevado número de asistentes que se esperan y la capacidad limitada de las instalaciones de Ashtanga Yoga Bilbao, el taller tendrá lugar en dos ubicaciones alternativas:
Sesiones de jueves y viernes:
Sesiones de sábado y domingo:
Programa
"Ashtanga Yoga para el resto de tu vida"
Jueves 4 de abril (El Regazo Feliz)

De 17:30 a 20:00: Charla y práctica. Discusión acerca de cómo piensa David que Ashtanga Yoga debería ser enseñado y practicado basándose en sus más de 45 años de práctica diaria y enseñanza. Esta clase establece los cimientos para todos los estudiantes, en especial profesores, que deseen entender mejor cuál es la manera más beneficiosa de practicar y enseñar Ashtanga Yoga. Práctica guiada de la primera serie con David.

Viernes 5 de abril (El Regazo Feliz)

De 17:30 a 20:00: Charla y práctica. Continuación de la primera serie guiada por David con detalladas explicaciones de cada paso no cubiertas el jueves.

Sábado 6 de abril (Teatro Kabia)

De 10:00 a 12:00: Preguntas y primera serie completa guiada con los comentarios de David.
De 16:00 a 18:00: Historia del Yoga, descripción e historia de Ashtanga Yoga, viajes de David y sus aventuras yóguicas, y cómo llevó Ashtanga Yoga a América y su posterior expansión a todo el mundo. Introducción y práctica del pranayama de Ashtanga Yoga tal y como lo enseñó Pattabhi Jois, guiado por David.

Domingo 7 de abril (Teatro Kabia)

De 10:00 a 12:00: Introducción a la serie intermedia (segunda serie de Ashtanga Yoga) de una manera que todo el mundo con cualquier nivel pueda intentarla y disfrutarla. Segunda sesión del pranayama de Ashtanga Yoga guiado por David.
Precios
Taller completo: 250 euros
220 euros si haces tu reserva antes del 1 de marzo del 2019.
Para confirmar la reserva es suficiente con realizar un depósito de 60 euros. El resto se abonará el primer día que asistas al taller.
Para aquellos que no puedan asistir al taller completo, David les anima a que asistan por lo menos a la clase del jueves.
Dado que no habrá clases estilo Mysore, no es imprescindible ser un practicante de Ashtanga Yoga para participar en el taller, aunque sí recomendable para apreciar más la persepectiva de las enseñanzas de David.
Ven a la clase del jueves por 55 euros y el resto de las clases sueltas te salen a 55 euros. De otro modo, las sesiones individuales cuestan 60 euros.
Ponte en contacto con nosotros para hacer tu reserva mediante email info@ashtangayogabilbao.com, teléfono o Whatsapp (+34 696123011). ¡Plazas limitadas!
Nota: No habrá devoluciones bajo ninguna circunstancia.
Acerca de David
David Williams ha practicado yoga a diario, sin interrupciones, desde 1971.
En 1972, David conoció a K. P. Manju, hijo de K. Pattabhi Jois, y lo observó durante una demostración de la primera serie de Ashtanga Yoga. Esto tuvo lugar en el Ananda Ashram del Dr. Swami Gitananda en Pondicherry, sur de la India.
En 1973 David comenzó a aprender el método de Ashtanga Yoga con K. Pattabhi Jois en su casa en Mysore, India, y se convirtió en la primera persona no india en aprender todo el sistema de asanas y pranayama directamente de Jois. En 1974, David fue uno de los primeros no indios en ser certificado para enseñar las asanas de Ashtanga Yoga. Él es también una de las escasas personas que han sido certificadas por Jois para enseñar el pranayama de Ashtanga Yoga.
En 1975 David llevó a K. Pattabhi Jois y a Manju Jois a América donde, junto con Nancy Gilgoff, organizó su primera visita a Encinitas, California.
David ha enseñado el sistema de Ashtanga Yoga a muchos de los profesores y practicantes más reputados en la actualidad, incluidos David Swenson, Danny Paradise, Cliff Barber, Baptiste Marceau, Bryan Kest, Jonny Kest, Cliffor Sweatte, Ricky Tran, Kathy Cooper y Andrew Eppler.
David tiene 69 años de edad. Se graduó en la Universidad de Carolina del Norte en Chapel Hill. Ha vivido en la isla de Maui, Hawaii, desde 1976.
Información adicional
David nos ha hecho llegar una carta abierta dirigida a todas las personas que asistan a su taller en la que expresa sus ideas acerca de cómo debería enfocarse la enseñanza de yoga y que puedes leer en este enlace.
Nosotros asistimos a un taller con David Williams en el año 2015. En este otro enlace puedes leer una crónica de nuestra experiencia.
Ashtanga Yoga Bilbao offers you the rare and wonderful chance to study yoga with the pioneer who brought Ashtanga Yoga out of India.
Between 1973 and 1979 David Williams became the first westerner to learn fhe entire Ashtanga Yoga system directly from K. Pattabhi Jois. Since then he devoted his life to spread in the world the method that hundreds of thousands of people practice nowadays.
For four days, from Thursday the 4th of April till Sunday the 7th of April 2019, David will dive you into those germinal years of Ashtanga Yoga and offer you his special vision. It will be like opening a time capsule! If you are truly fond of Ashtanga Yoga, you cannot miss it.
Due to the expected number of attendants and the limited capacity of Ashtanga Yoga Bilbao facilities, the workshop will take place in two alternative locations:
Thursday and Friday sessions:

El Regazo Feliz Address: Alameda de Mazarredo 35, 1ºA, 48009 Bilbao Google Maps link
Saturday and Sunday sessions:
Program
"Ashtanga Yoga for the rest of your life"
Thursday 4th of April (El Regazo Feliz)

From 05:30 PM to 08:00 PM: Talk and practice. Discussion of how David thinks Ashtanga Yoga should be taught and practiced based on his 45+ years of daily practice and teaching. This class is the foundation for all students, and particularly teachers, who want a greater depth of understanding of the "big picture" of the most beneficial way to practice and teach Ashtanga Yoga. Primary series practice led by David.

Friday 5th of April (El Regazo Feliz)

From 05:30 PM to 08:00 PM: Talk and practice. Continuation of Primary series led by David with thorough explanations of every step not covered on Thursday.

Saturday 6th of April (Teatro Kabia)

From 10:00 AM to 12:00 AM: Questions and complete primary series led by David's commentary.
From 04:00 PM to 06:00 PM: History of Yoga, description and the history of Ashtanga Yoga, David's travels and adventures in Yoga, and his bringing Ashtanga Yoga to America and its eventual spread to the entire world. Introduction and practice of the Ashtanga yoga pranayama, as taught by Pattabhi Jois, led by David.

Sunday 7th of April (Teatro Kabia)

From 10:00 AM to 12:00 AM: An introduction to Intermediate series in a way that everyone at all levels can try and enjoy. 2nd session of the Ashtanga yoga pranayama led by David.
Prices
Full workshop: 250 euros
220 euros if you make your reservation before the 1st of March 2019.
To confirm your spot it's enough to pay a deposit of 60 euros. The rest will be paid upon arrival on your first day at the workshop.
For those who can't come to the entire workshop, David really encourages everyone to attend the Thursday class.
Since there will be no Mysore style classes, it's not compulsory to be a regular Ashtanga Yoga practicioner to take part in the workshop, although it's advisable in order to appreciate more David's perspective.
Attend Thursday's class for 55 euros and all other classes are 55 euros. Otherwise, individual sessions are 60 euros.
Get in touch with us in order to reserve your spot by email info@ashtangayogabilbao.com, telephone or Whatsapp (+34 696123011). Limited spots!
Note: There will be no refund under any circumstance.
About David
David Williams has been practicing yoga daily, without interruption, since 1971.
In 1972, David met K. P. Manju , the son of K. Pattabhi Jois, and saw him demonstrate the Ashtanga Yoga Primary series. This was at Dr. Swami Gitananda's Ananda Ashram in Pondicherry, South India.
In 1973, David began learning Ashtanga Yoga from K. Pattabhi Jois at his home in Mysore, India, and he became the first non-Indian taught the complete Ashtanga Yoga system of asanas and pranayama directly from Jois. In 1974, David became one of the first non-Indians certified to teach the Ashtanga Yoga asanas. He is also one of the few people ever certified by Jois to teach the Ashtanga Yoga pranayama.
In 1975, David introduced K. Pattabhi Jois and Manju Jois to America when he, along with Nancy Gilgoff, organized and sponsored their first visit to Encinitas, California.
David is responsible for teaching the Ashtanga Yoga system to many of today's leading teachers and practitioners, including David Swenson, Danny Paradise, Cliff Barber, Baptiste Marceau, Bryan Kest, Jonny Kest, Clifford Sweatte, Ricky Tran, Kathy Cooper, and Andrew Eppler.
David is 69 years old. He is a graduate of the University of North Carolina at Chapel Hill. He has lived on the island of Maui, Hawaii, since l976.
Additional information
David has sent us and open letter for all the people attending his workshop in which he provides his view on how yoga teaching should be focused. You may read it in this link (original letter in English at the bottom).
We attended a workshop with David last 2015. In this other link you may read on our own experience with David (full text in Spanish).